Coincidences are fascinating sometimes. While I was rereading The Trial by Franz Kafka, I got drawn into a situation with Paypal that made the issues of young K. appear as smooth and transparent.
My battle with Paypal also ended in a similar fashion as that of K. versus the bureaucracy. Without knowing what wrongdoings I had possibly committed, and after having – often twice or more – submit all information that Paypal was asking for, my account with some US$2,000 on it was suddenly closed.
During my Trial, Paypal even asked me to send ID documents of people whose names I have never heard before, claiming they were beneficial owners of my company. Neither have I been given any guarantee regarding when or even if I will be able to retrieve my money.
But let us start from the beginning..
The preconditions for my Trial
For the past twelve years, I have been residing in Beijing, Hong Kong and Taipei for studies and work. I have been working full time as a journalist for Swedish media on freelance basis since 2010, also publishing five books in Swedish.
To bill my customers, I was using a Swedish company to begin with. According to Swedish law, I later deregistered myself from the Swedish populace after having lived abroad for a certain amount of years and received a residence permit.
Subsequently I also closed down my Swedish company and opened a local limited company to bill my customers. Hence, I am not relying on Paypal to receive payments from my customers as a journalist.
What I have been using Paypal for is to receive payments related to this very blog. Apart from some US$200 monthly from my Patreon, there will also be an irregular amount of about the same size coming from ads or sponsored blog posts.
So we are not talking about particularly large amounts of money here. Anyhow, I decided to sign up for a business account with Paypal, since I have all my papers in order and since the personal account comes with some minor limitations.
Nevertheless, when Paypal eventually found out that I had committed the outrageous misdemeanour of actually moving from one country to another, troubles started.
My Trial begins
I do not remember exactly what year I first registered my Paypal account. But it was definitely before I received my local residence permit abroad, and hence before I deregistered myself from the Swedish populace and opened a local company.
Apparently Paypal have a threshold on the equivalent of 2,500 euro in total payments to business accounts opened in a European country before it will be closer scrutinised, most likely for issues such as money laundering and tax evasion.
When I reached 1,800 euros in total incomes to my account last December I got an email regarding this. When I then soon reached 2,500 euro Paypal the same month, Paypal sent me an email to tell me that my account was now "limited", meaning that I could still receive payments but nether withdraw money or use Paypal for online payments.
After having submitted the company documents I was asked for, Paypal soon got back to me saying:
During a routine review, we noticed that your business is registered in Hong Kong while you have a Sweden PayPal account.
 
For you to hold a Sweden PayPal account, please provide us with the business rational for opening your PayPal account in this country.
 
A justifiable business rationale includes one of the following:
 
-  Customer base within country to which you provide goods or services
-  Dedicated website for country in question
-  Premises in country
-  Staff in country
 
To fulfil the request of a "justifiable business rationale" would be easy, I thought, since over 95% of my customers are Swedish, and my website is also entirely in Swedish.
I was wrong.
The "customer service" guiding me through the Trial
To communicate with Paypal's customer service was an experience that made the many Chinese online companies I have been dealing with during my years here appear as extremely professional. In comparison, the treatment from Paypal was not only impersonal, but also painfully slow and confusing.
In order to provide information to Paypal one have to upload documents on its website. The response would typically take at least a week, often much more than so. Furthermore, would one have any questions about what information Paypal actually is looking for, it is not possible to reply the mail from the customer service as they "don't monitor this inbox".
Instead, Paypal suggests: "If you can't complete these steps, click 'Contact' at the bottom of any PayPal page to get more information or to contact Customer Service."
Except that there confusingly enough is no "Contact" link at the bottom of any Paypal page. There is a "Need help?" link from which one can eventually navigate to the so-called customer service. Once there, you can contact the company by using a mail form.
After using the mail form one have to wait for a few days, only to get a response which is more often than not an exact copy of the mail you had inquires about.
See this example below when I wanted to ask what documents they in order for me to prove to them my "premises in Sweden":
Would you have any problems with our services or any questions, please just click "Contact Us" "Need Help?".
Only three clicks away, you can contact us by an email form..
..if you had questions regarding the email we earlier sent you..
..we will have another of our employees send you an exact copy of the first email!
This happened many times, and I also sent many of my documents several times.
To be constantly contacted by different employees and simultaneously not be able to contact anyone of them directly, was definitely adding to the confusion, also creating a feeling that there were several "tickets" running at the same time.
But that was neither the worst nor the most confusing annoyance during my Trial..
Unrealistic requests during the Trial
Apart from asking from "justifiable business rationale", Paypal would also initially ask me to complete the "Director Information Section". They were looking for full name, full residential address, nationality and date of birth of any director or beneficial owner of my company.
This would be even easier to provide than the business rationale, I thought, given that I am the one and only director and owner of my small limited company.
Again, I was wrong.
After having provided my ID documents, telling Paypal that I am the sole owner and director of my business, the company simply made up another person. They now wanted me to upload "Proof of Identity" of Stephen Brown, a name I have never heard before, nonetheless someone Paypal claimed to be a "Beneficial Owner" of at least 25% of my company.
When I contacted Paypal – via the mail form, of course – to tell them I have no idea who this Stephen Brown might be, they got back to me and said that I have to upload a document on the website stating that I can't provide his proof of identity:
First time Paypal asked me to provide "Proof of Identity" for a stranger, I thought there must be something wrong..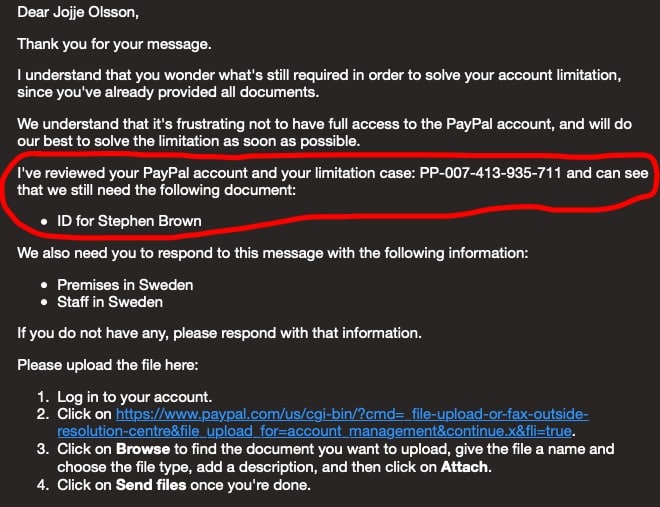 ..but instead they suggested that I have to upload a document stating that I do not have the ID of a man called Stephen Brown that i never heard of before.
"We ask you to log into your PayPal account and check your notification bell in order to provide us with information", is the standing instruction for uploading a document for Paypal to view. But when checking my "notification bell", the only option is to upload a "Proof of business registration" document, since all the other boxes at the time were ticked green: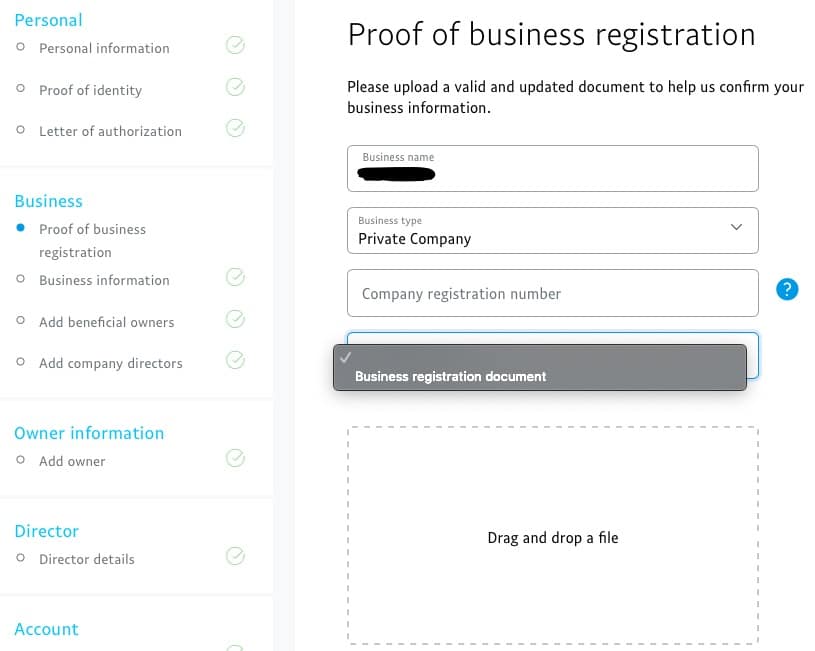 So I literally had to write a Word document explaining that someone named Stephen Brown is not the owner of my company, export it as a PDF and upload it as a "Business registration document".
By now, this Trial didn't feel serious at all. Also, I have no idea as to why the "Proof of business registration" box was not yet ticked green, having provided my company registration document and number several times.
It felt that Paypal was determined to keep the limitations from my account no matter what, and for the first time I begun to worry that they would actually close my account.
This time, I was right.
The Trial ends with the closure of my account
The very last request of information from Paypal concerned three things: "Premises in Sweden", "Staff in Sweden" and, alas, the ID of Mr. Mysterious aka Stephen Brown. I uploaded a PDF document with the relevant information and then waited.
Then in late March – more than three months after the first "limitations" of my account, and not long after I explained that Stephen Brown doesn't exist – I got an email with the headline "Paypal appeal denied", where the company now declared that my account is closed.
It seems to me that the only information I couldn't provide that Paypal needed was the ID of Stephen Brown. Yet I never got any explanation from Paypal as for who this man might be, let alone how they came up with the idea that he is a beneficial owner of my company.
Instead, Paypal got straight to business telling me that they decided to close my account for security reasons. The reason stated was: "Our records indicate you may be residing in a country that's different to the one where your PayPal account is registered."
Yes, people do move. And yes, I have provided you with all the documentation you asked for, much of it multiple times.
It seems that Paypal for some reason have a huge problem with people moving. They will not only ask you not to move, but also that you should have a company registered in the very country that you currently live in.
When my Trial was near the end, I spoke to an acquaintance of mine with experience from working at Paypal. He admitted that the company's way of handling those matters are outdated. He also said that if you ever move from the country where you first registered your Paypal account, you have to close the account and then open it again from your new country of residence.
Yes, you read correctly – this world leading online payment company doesn't provide an option to change your location. Would you ever consider to move, you have to empty and close your account and then open it again in in order to continue to use Paypal. (And don't even think of this as an option if your business is not registered in the country you temporary live in!)
Will I ever get my money back?
As for the US$2,000 on my account, Paypal had the following message for me: "After 180 days, we may ask you to provide us with a proof of identity and a proof of address before you can withdraw any remaining balance."
I do not now the reason for Paypal having to freeze my money for half a year, even though I am sure it's buried somewhere inside its user terms and conditions. I am ready to wait to get what is mine. But having gone through the Trial, I feel far from confident that Paypal will actually ever give my money back to me.
They will again ask me for documents before giving me back my money. They want proof of identity and proof of address. Will they again make up a person that is not me, that I have to provide an ID card for?
Furthermore, in 180 days from now, I will be living in another country (Japan) than where I am currently based (Taiwan), which is also different from the country where I registered my Paypal (Sweden). What proof of address is it that Paypal will ask me for??
My palms are already sweaty when thinking about the new Trial that will begin once I will try to retrieve my money.
I am not alone
As a modern global digital citizen, I turned to Twitter for whining after losing the Trial against Paypal. After having tweeted about my account being closed, I soon found out that I am far from alone having this experiences.
Within hours I got – among others – the following responses to my tweet:

And a quick Google search shows that this problem is indeed very common. There are blog posts and articles like "I don't know why PayPal has closed my account" and "PayPal closed my account with no explanation. It could happen to you."
There are also entire discussions on the topic, like the thread "Apparently PayPal closes people's accounts for no reason" on Reddit.
Solutions
Some people are suggesting that I should sue Paypal. This doesn't come across as a brilliant idea for me. First and foremost, I have already wasted enough time and energy on stupidity related to this case. Also, it seems that Paypal are well prepared would anyone consider suing the company after having their money stolen.
This is an excerpt from Paypal's email declaring my account closed:
We reserve the right to close any account reported to be involved in possible high-risk behaviour. In the event of a dispute, we'll try to recover the money from you by debiting your PayPal balance first and, if there are insufficient funds in your PayPal balance, we reserve the right to collect your debt to PayPal by any other legal means.
My "high-risk behaviour" is living abroad. If I started a dispute, it would be safe to say that Paypal have access to better legal resources than me, and most likely I would end up with not only with an empty Paypal account but also with a lifetime debt.
In this email Paypal also – seemingly entirely without irony – recommended me to "sign up for a new PayPal account in the country where you live". Needless to say, after my Trial, the first thing that comes to mind was not exactly to register another Paypal account.
Instead I was looking for an alternative online payment service that can also handle Patreon. I found and signed up with Payoneer, and within less than two days both my card and my bank account is linked to the site, which will allow me to receive payments from Patreon and beyond without requesting ID cards of strangers.
So let this post serve as a warning that the size and reputation of Paypal doesn't necessarily mean that you can rely on its services. There is nothing at all you can do if the company make up false excuses – like "beneficial owner" Stephen Brown – to close your account and confiscate your hard earned money.